File2File Transfer Services
Sanyan offers file proceesing, reformatting, archiving, for the following lists:

Device File Formats Transcoding - Camcorder drivers, SSD/SATA/IDE storage, DVD, Flash drives, and Memory cards 

File Transcoding - Uncompressed 8, 10, 12, & 16 bits,Cineform (Silicon Image, GOPRO),Sony XAVC (Sony PMW-F5, F55),

Sony XAVC-S (Sony FDR-AX100, PXW-X180, ..), R3D (RED one, RED Scarlet & RED Epic models),
CinemaDNG, AVC Intra (Panasonic Broadcast),AVCHD Pro (Sony NEX series, FS100, FS700,
Panasonic 3/4),AVCHD Consumers (Handycams from Sony, Panasonic, JVC),
AVCHD Consumers (Handycams from Sony, Panasonic, JVC), H.264 MOV (Canon EOS series),
H.264 MP4 (GOPRO cameras),MPEG-2 Long GOP MXF (Canon C100, C300, C500),
MPEG-4 AVC MP4 (Samsung Galaxy 4K video), And more ..

File processing - 3GP/3GP2, ASF (Windows Media), Audio Interchange File Format (AIFF),

AVI,DNxHD (SMPTE VC-3),DV video,Flash Video, Matroska,MOV (Quicktime),
MP4 Video/Audio, MPEG-2 TS, MPEG-2 PS, MPEG-1, MPEG audio layer 3,
Ogg,PCM, RealMedia, VOB (Video Object), WAV, WebM

File Print into Broadcast Tapes -Uncompressed file to Digital Betacam, HDCAM, HDCAM SR, and HD-D5

Modern media conversion services are available for reformatting and preserving valuable video recordings stored on camcorder hard-drives, SD memory cards, DVDs, camcorder miniDVDs, and other recent types of digital storage media . We convert video content to the most common file outputs, and return them to you on the most commonly used media - discs (DVD or Blu-ray), flash-drives, external hard-drives, and online cloud storage.
Wide Output File Format Supported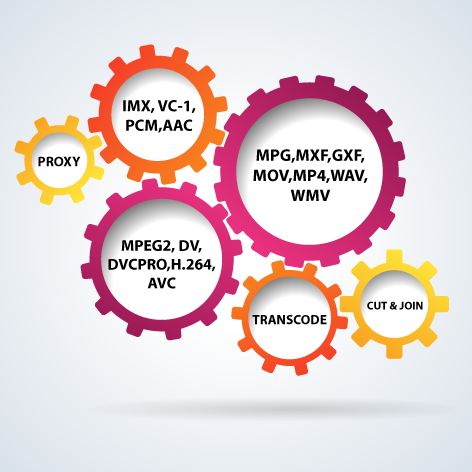 Our continuously expanding set of supported formats include:
Video file wrappers: MP4, 3GP, OGG, WMV, MPEG-TS, MPEG-2 PS,WEBM, FLV, AVI, QuickTime, MXF, LXF, GXF;
Video essences: H.264, Theora, Quicktime, MPEG-1/2, MPEG-4, MPEG-TS, DNxHD, DVCPRO/50/HD, XDCAM,IMX, XDCAM HD, XDCAM HD422, PRORES, JPEG2000, DivX;
Audio file wrappers: WAV, M4A;
Audio essences: MP3, AC3, PCM, AAC, HE-AAC, WMA, Vorbis;
Adaptive bitrate: Apple HTTP Live Streaming (HLS), Microsoft Smooth Streaming (MSS), Adobe's HTTP Dynamic Streaming (HDS);
Output Media Types
Note
1. All price is based-on SD source, NOT including the shipping cost.
2. Extra copies of a Blu-ray Disc are $15 each.
3. USB 3.0 hard drive is available for return of your new files, $75 for a 500GB, $100 for a 1TB model and $150 for a 2TB .
Request a Quote
Please fill out this form to receive your quote on File to a file trans-coding.
Fields marked with an asterisk (*) are required